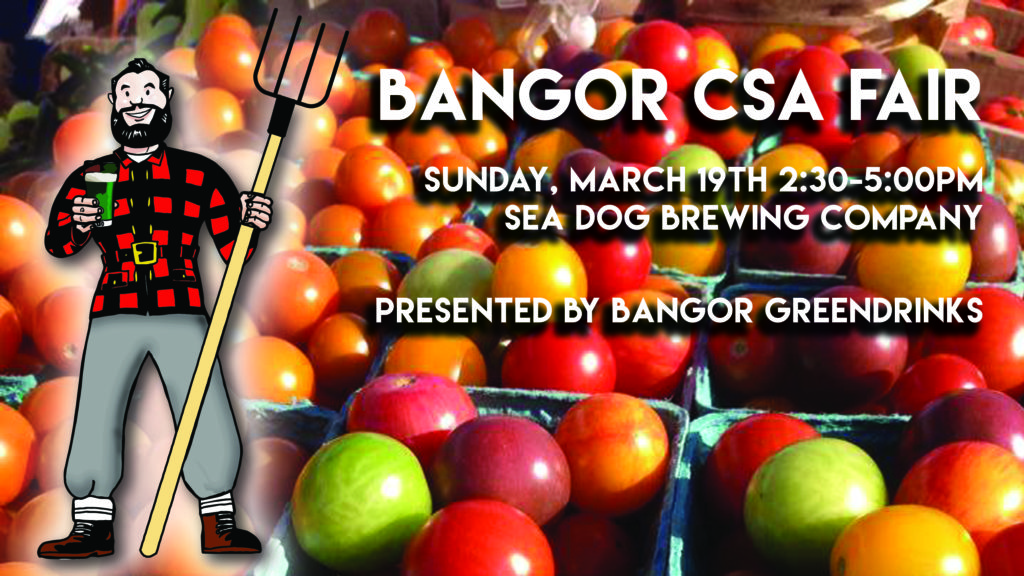 Would you like to have your own share of fresh locally-grown produce provided on a regular basis for the entire growing season? What about supporting local farmers in the process? Join us for the annual Bangor CSA Fair at Sea Dog Brewing Company Bangor, where more than a dozen local farms will be sharing information, selling shares, and offering samples to get you excited for the growing season!
In addition to meeting farmers and buying shares, there will be live music from the Salt River Boys, samples of local produce, children's activities in partnership with the Maine Science Festival, and a market basket raffle — so bring the whole family!
This event is sponsored by Bangor Greendrinks. For more information email BangorGreendrinks@gmail.com.
What is CSA?
Community-supported agriculture (CSA) is a model used by local farmers that guarantees a regular share of the harvest to members while ensuring that farms have the capital they need at the beginning of the season. Members purchase shares at the beginning of the year, and farmers then provide boxes of whatever happens to be in season on a regular (weekly or bi-weekly) schedule for the entire growing season. Different farmers offer different options, so come check them out at the Fair!
Here are all 12 participating farms and 1 fisherman: