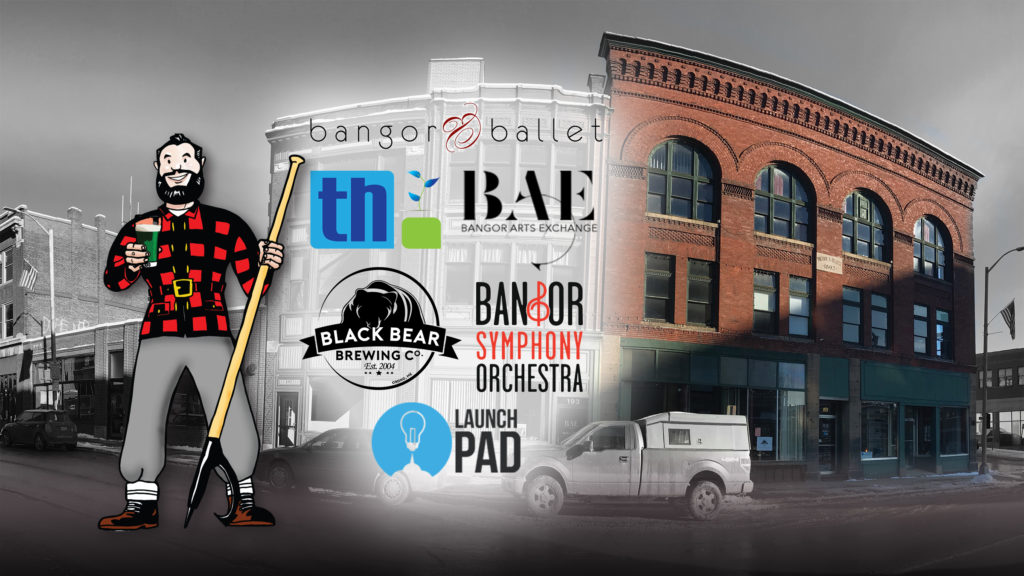 This January we're throwing a block party… a Nichols Block Party! Every tenant in the newly rejuvenated Nichols Block at 187 Exchange Street is teaming up to host Greendrinks on Tuesday January 9th from 5-8pm.
Bangor Arts Exchange will be hosting us in their beautiful ballroom, withBlack Bear Brewing Co. serving their delicious beer, Bangor Symphony Orchestra providing some musical performancs, and Thompson-Hamel, LLC, Launchpad and Bangor Ballet helping to provide food!
In case you haven't heard, there are so many exciting developments happening at the Nichols Block, which was designed by Wilfred E. Mansur and built in 1892. We hope you'll take this opportunity to come and see some this beautiful building, including a sneak peak into Black Bear Brewing's tasting room coming soon in 2018 and Thompson-Hamel's new Exchange Street office. .
In addition to beer, we'll have wine from Central Street Farmhouse, food from Fork & Spoon, and Greendrinks' corn hole set.
As always, Greendrinks is a free family-friendly event, so bring the kiddos! There is a suggested $5 donation, and we ask that you bring your own drinking vessel. If you forget, we'll have compostable cups available for $1, and custom glassware for $5.
Proceeds from the event go toward helping Bangor Greendrinks provide grants to fund worthy projects that help make Bangor greener.
Come on down and explore the newest additions to Downtown Bangor!
Cheers!
The Bangor Greendrinks Familia